Store Pick Up and Ordering:
St. Paul: 651-642-9400   Minnetonka: 952-249-0390
***Online order pickup is only available for our St. Paul location***
Amaretto Mousse
00007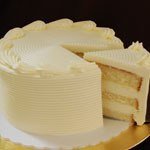 A vanilla cake with alternating layers of Amaretto liquor mousse.
Please note when placing your order you can add writing in chocolate (we do not use dyes), curly ribbons and silk floral in your choice of colors. Please specify your selection in the "Special Requests" section.

Special Requests: Writing, Ribbons & Silk Floral
Customer Notes:
Pick up only available in St Paul. Hours for pick up M-F 9-4 Sat: 9-3 Sun: Closed (0)
Date of pickup (minimum 2 days notice)